In our little corner of downtown Portland, good coffee isn't hard to find. We've got some amazing options within only a few blocks of our office. Nonetheless I was very excited for the opening of new Barista location about 1/2 a block away. So excited, that I took a field trip with a bunch of my coworkers to go check it out.
I decided to document the trip so I could report back to Chris Tacy, one of the AppFog folks base in SF (who also happens to be General Manager, Retail for Stumptown and super into coffee in general).
The Trip
During the trip, my fellow explorers were Robert, Kofahl, and Luc.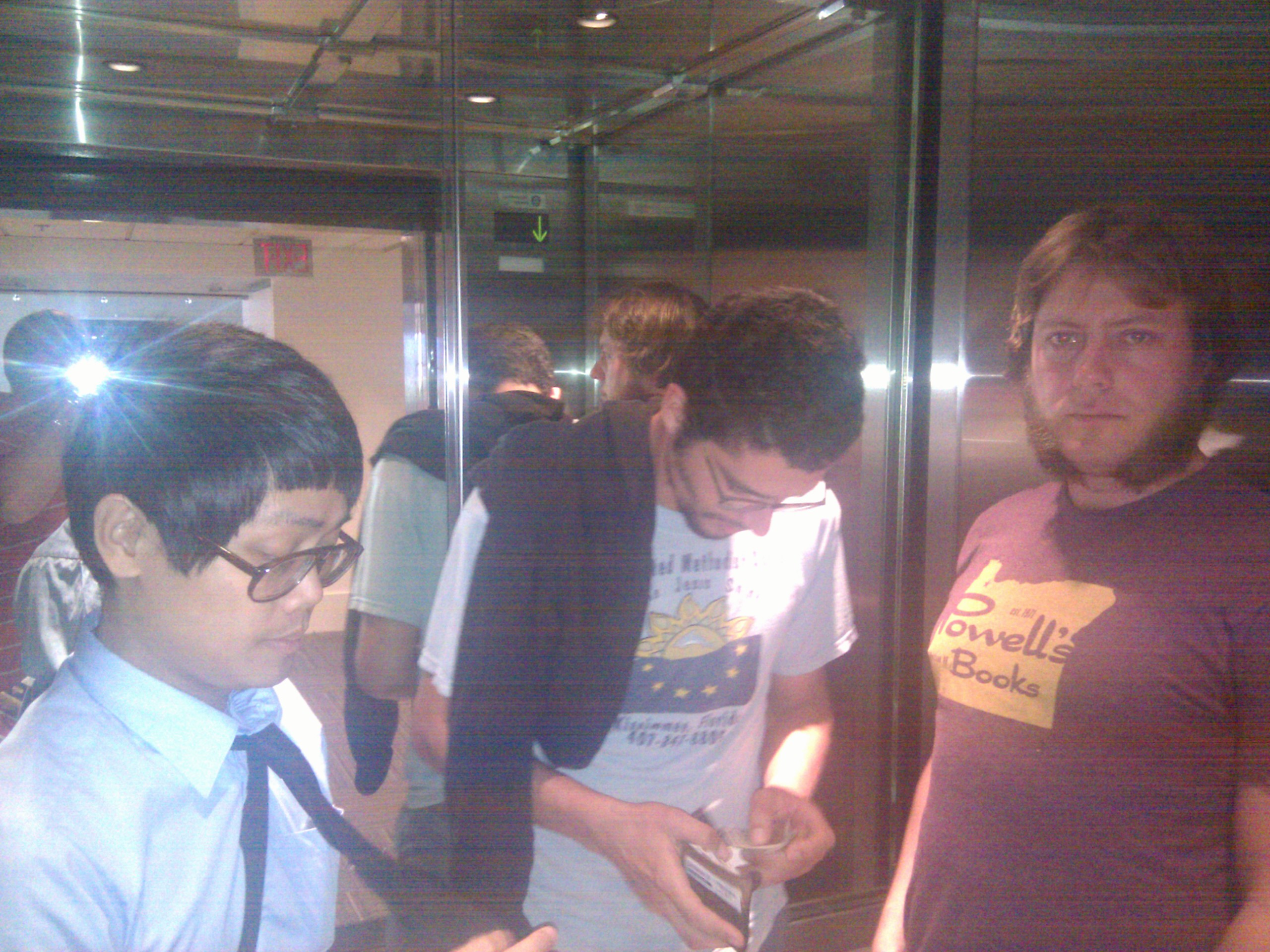 You can see the excitement in their eyes as Robert does a mandatory tie check, Kofahl inspects the wallet, and Luc stares into the abyss, waiting for it to start staring back.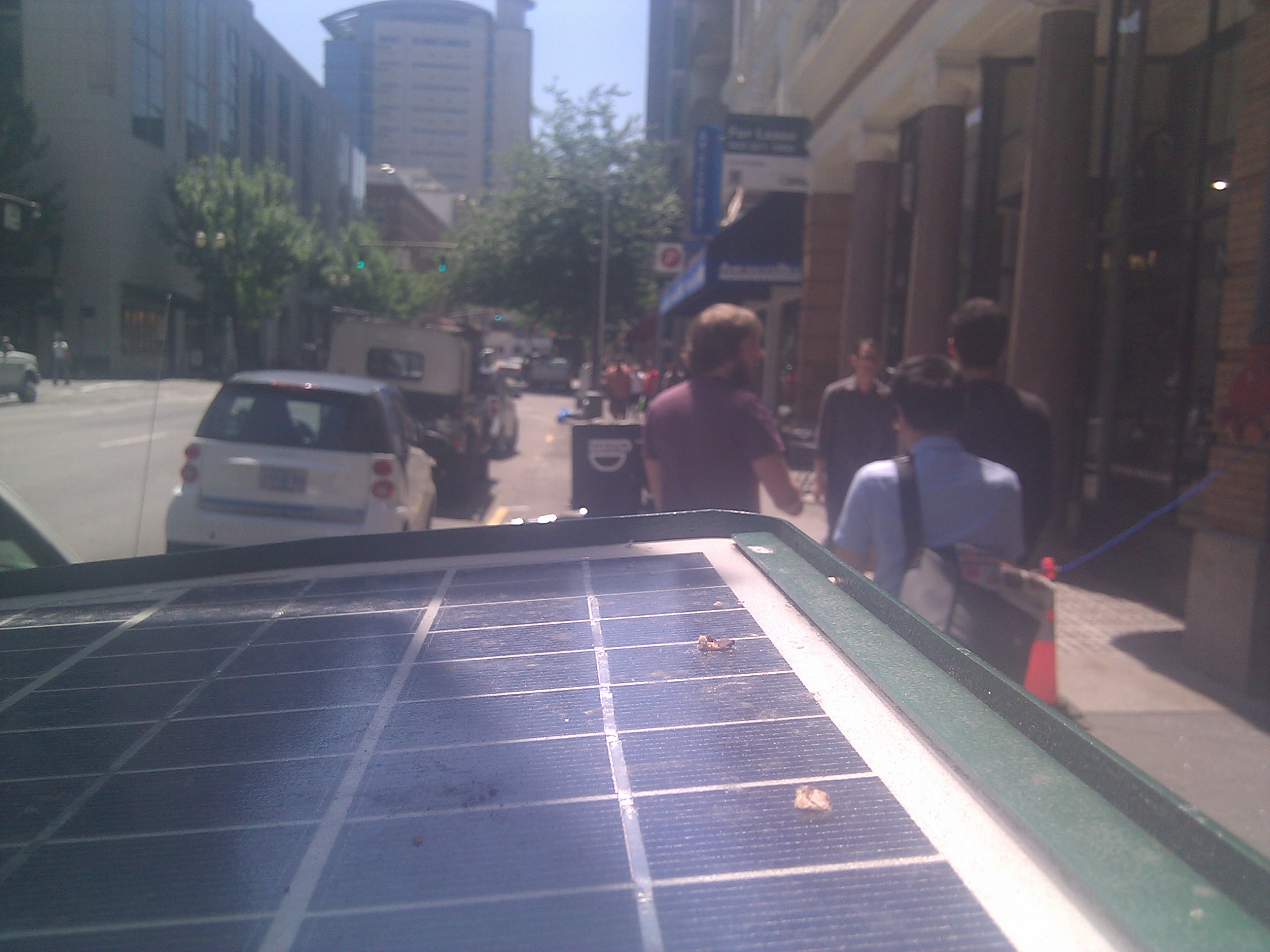 Shot from sidewalk in front of AppFog's old office.
Though we are pretty close in our new office, the old office is even closer. In fact, it's literally next door to the new Barista spot. Unfortunately for us, we moved out right before they opened. Janrain, however is in the same building, and has primo access to this spot. I imagine we'll be running into those folks a lot here.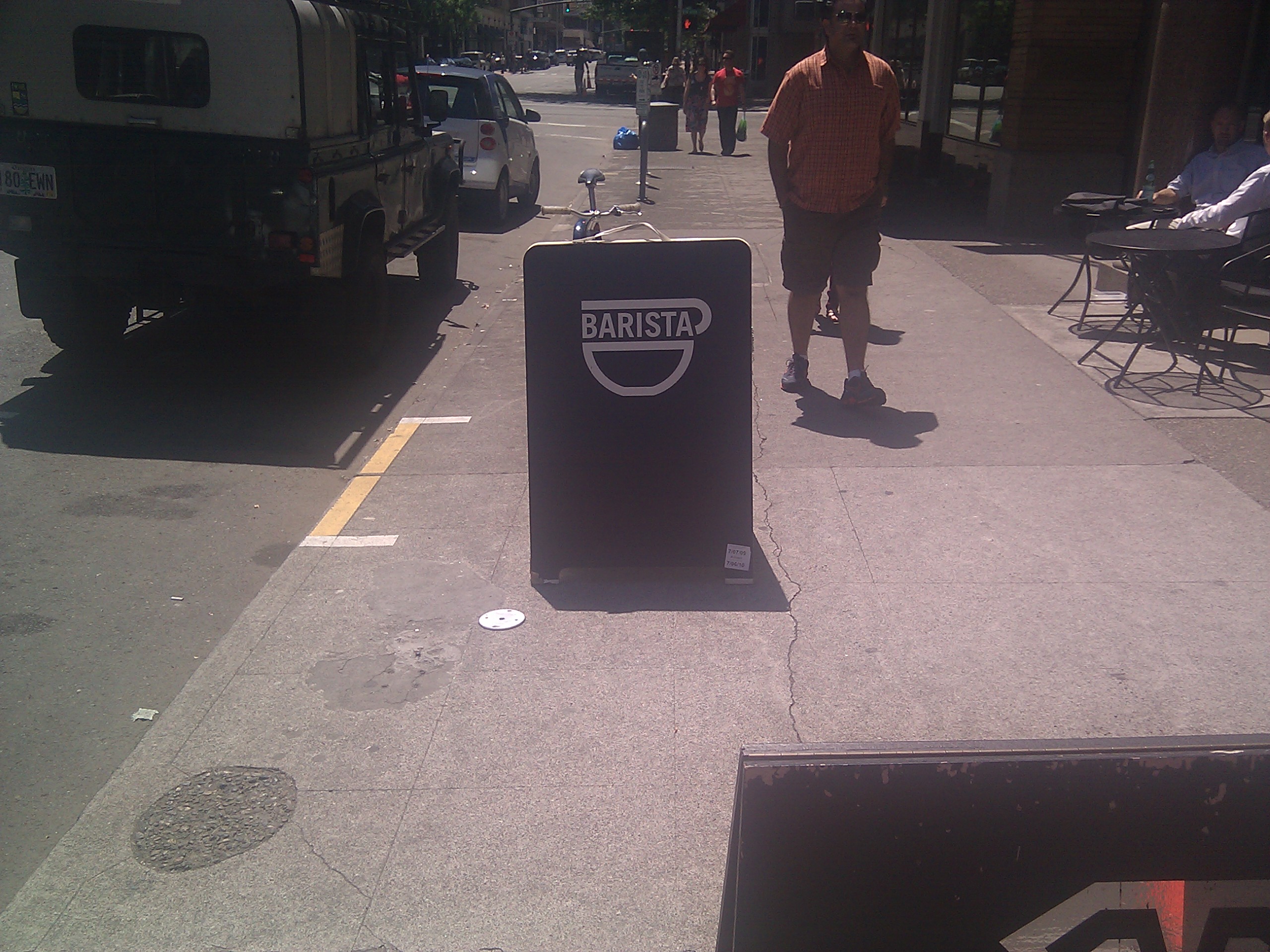 A frame sidewalk sign, outdoor seating in upper right corner, hipster bike behind sign.
While walking around Portland, look out for this sign. You can be assured good coffee will be inside.
At this point Luc, who had been staring into the abyss this whole time, finally caught it staring back. But to his surprise, it was the abyss in his empty stomach, not his soul (or whatever metal-ass shit he expected it to be) and so, Luc bailed to go get food instead of joining us for coffee. No one said this would be an easy journey. Many valiant explorers have been lost before, in less than half a block, with lesser impressive coffee destinations ahead.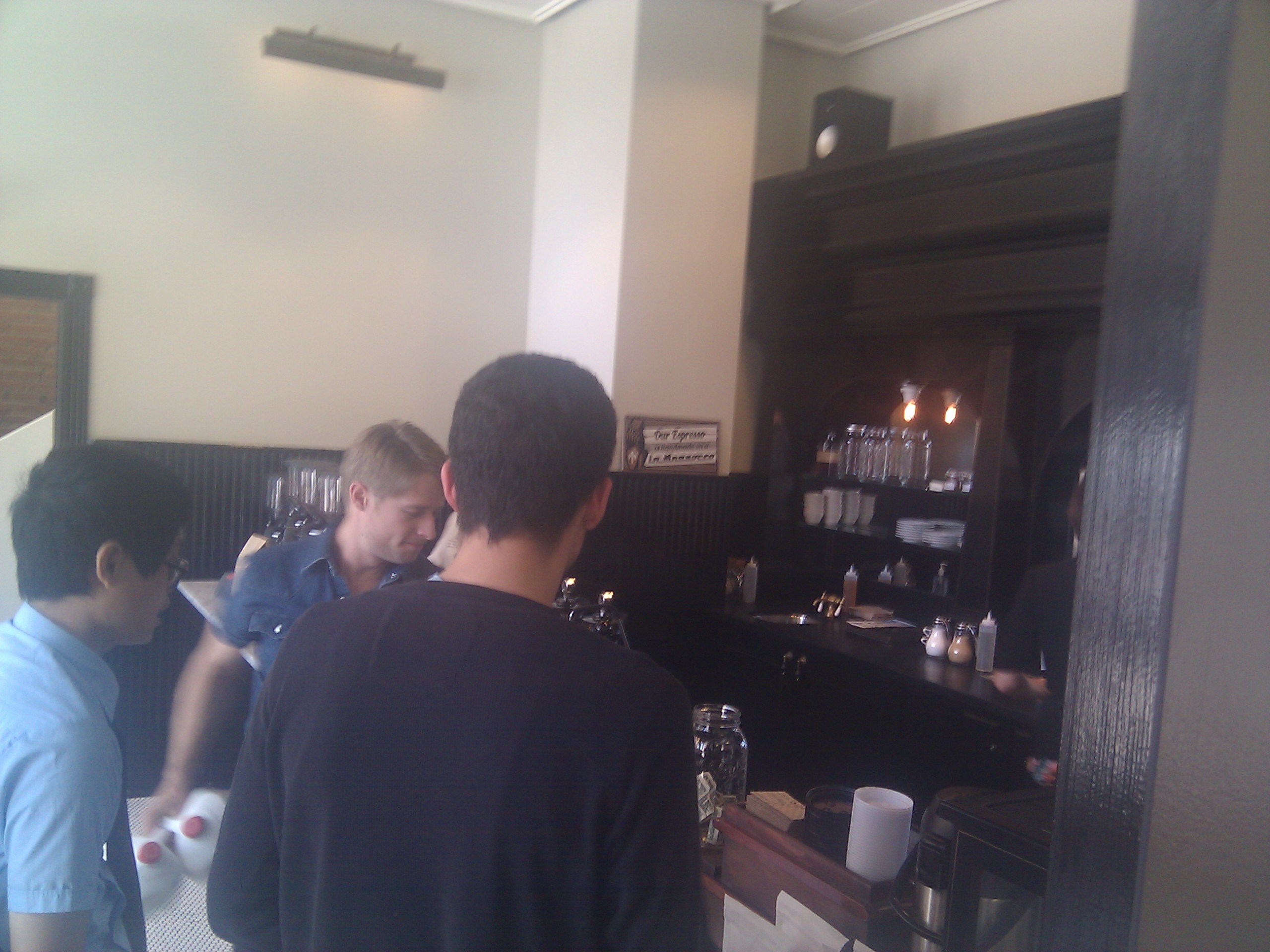 Entering the shop
As you walk in from the sidewalk, there's a small hallway, and the entry to the shop is to your left through a normalish door. This creates a bit of a weird traffic pattern, since the ordering spot is right by the door, and so whoever is ordering is essentially blocking the entrance.
Whatever. Older spaces cause weird traffic patterns. I'm completely OK with that. Really.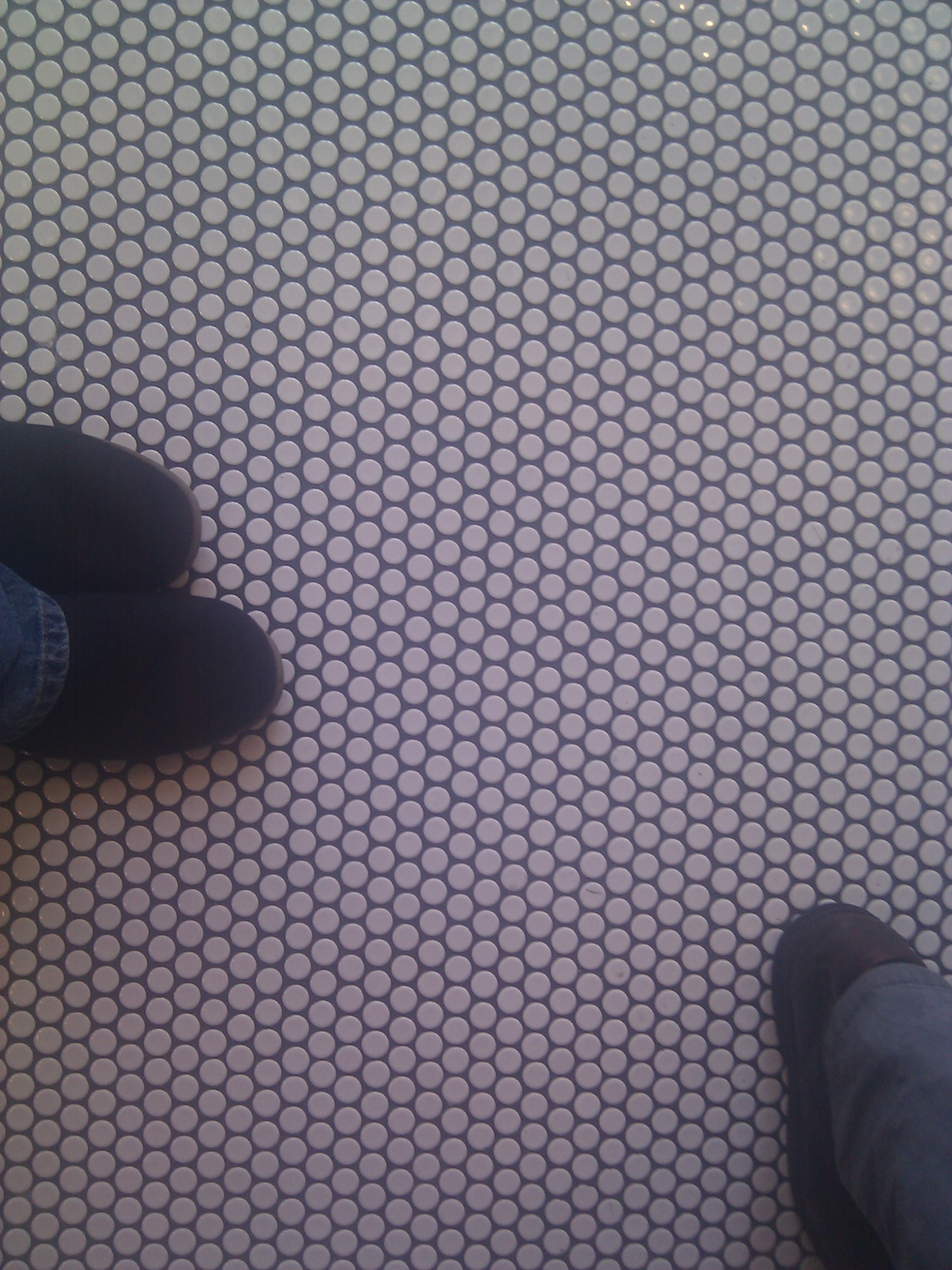 Tiled floor, Troy's shoes on left, Kofahl's on right.
One of my favourite genres of music is shoegaze, equally for it's use of guitar effect pedals, as for it's mopey demeanour and the fact that you get to check out lots of sweet tile jobs. This place delivers on the tile job. Nice looking floor, and cool indie-rocker shoes.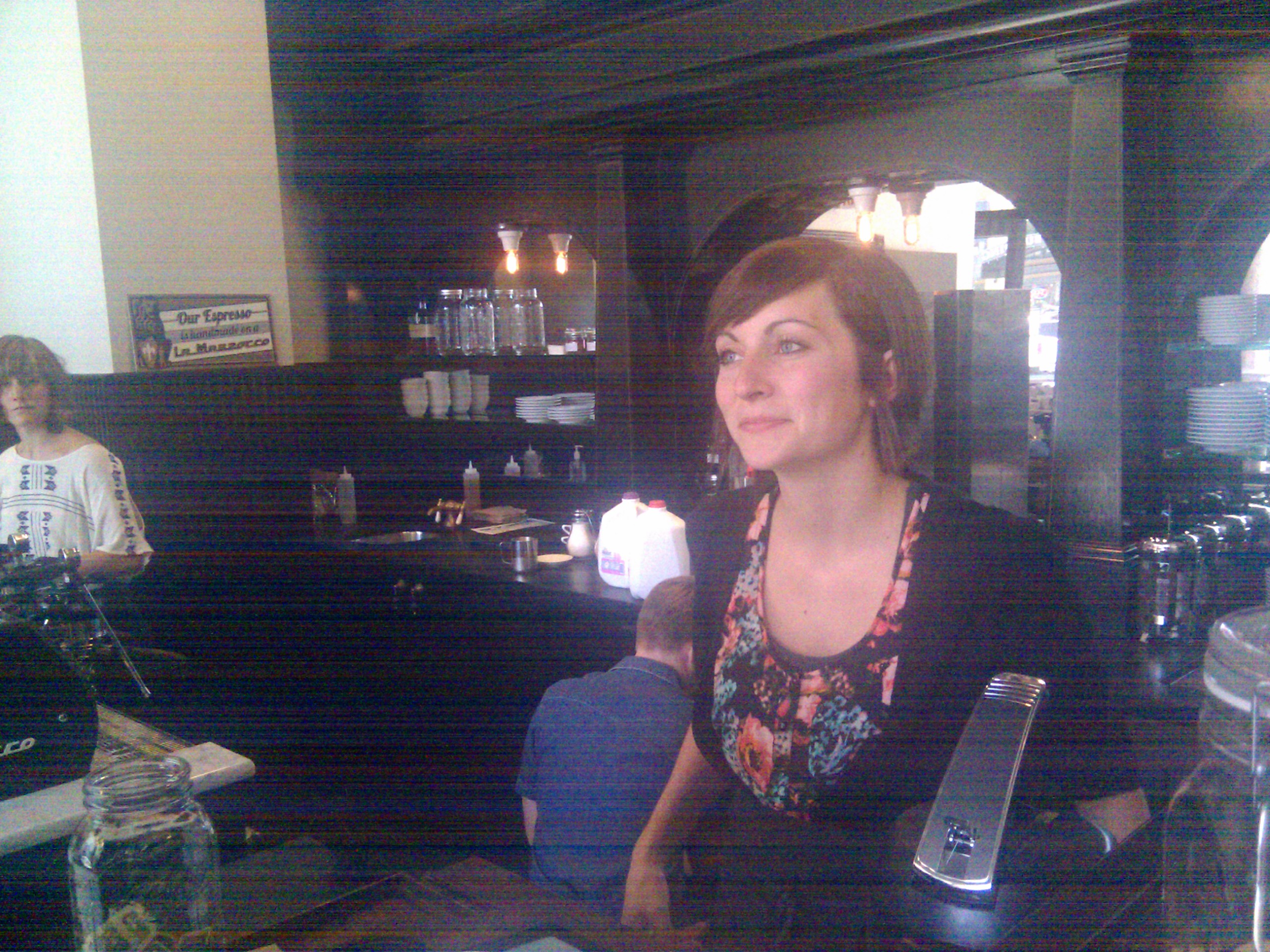 Three employees. The cash register operator, back-liner, and machine operator
This place is not slacking when it comes to labour cost overhead. They've got three extremely talents folks in what looks like a roughly 6x20 space. By all appearances, they run a tight ship.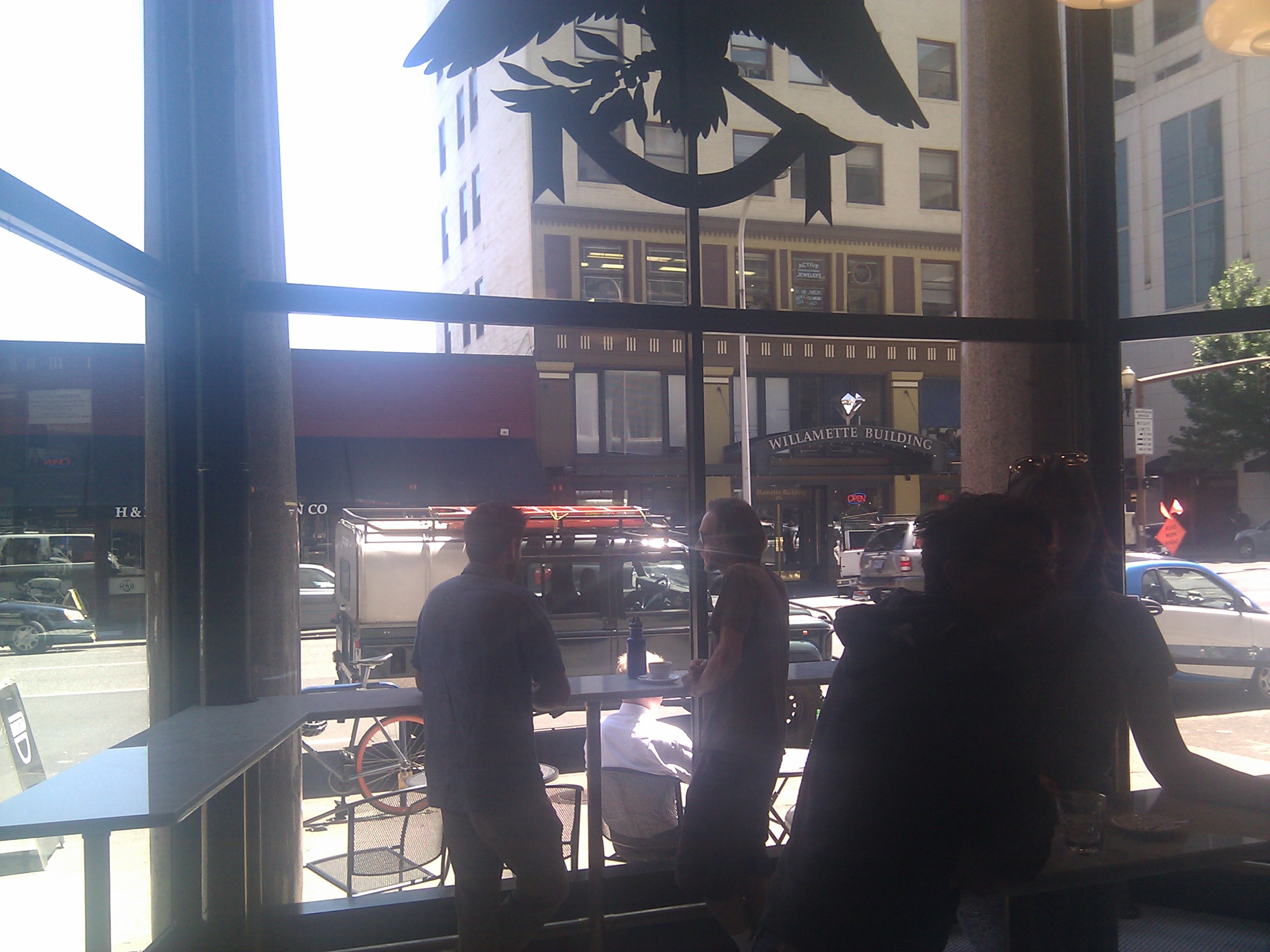 Standing at counter, looking out towards street.
The space that the shop is in, is an old commercial storefront in the ground floor of an office building.
In days past, these street-level stores had great display areas to entice and delight window-shoppers as they walked by to pop in and buy a hat, watch, dress, or whatever.
In the front of space there is a large bay window with floor-to-ceiling glass, and super tall ceilings. Instead of eye-catching wares, the window is lined by thin marble topped standing-only counters.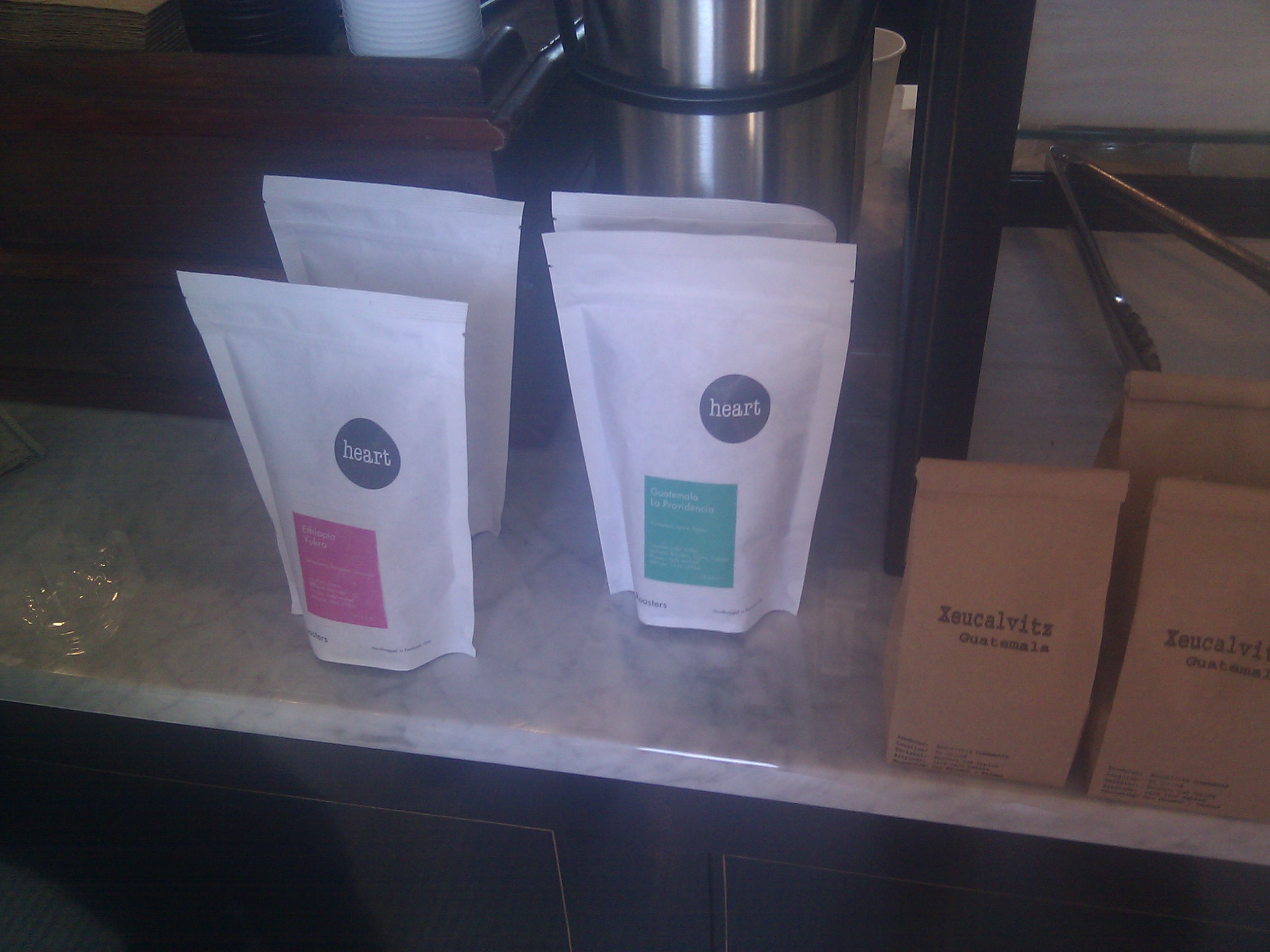 Some beans for sale
Like any good coffee shop, they also sell beans. Today they had beans for sale from Heart and Coava, which are two of my favourite local roasters. One of the great things about Barista is that unlike many of the local shops, they don't roast their own beans. Instead they offer a selection of some of the best beans available (both local and not).
Variety is always nice, and I love it when I get to try something new and learn about a new roaster.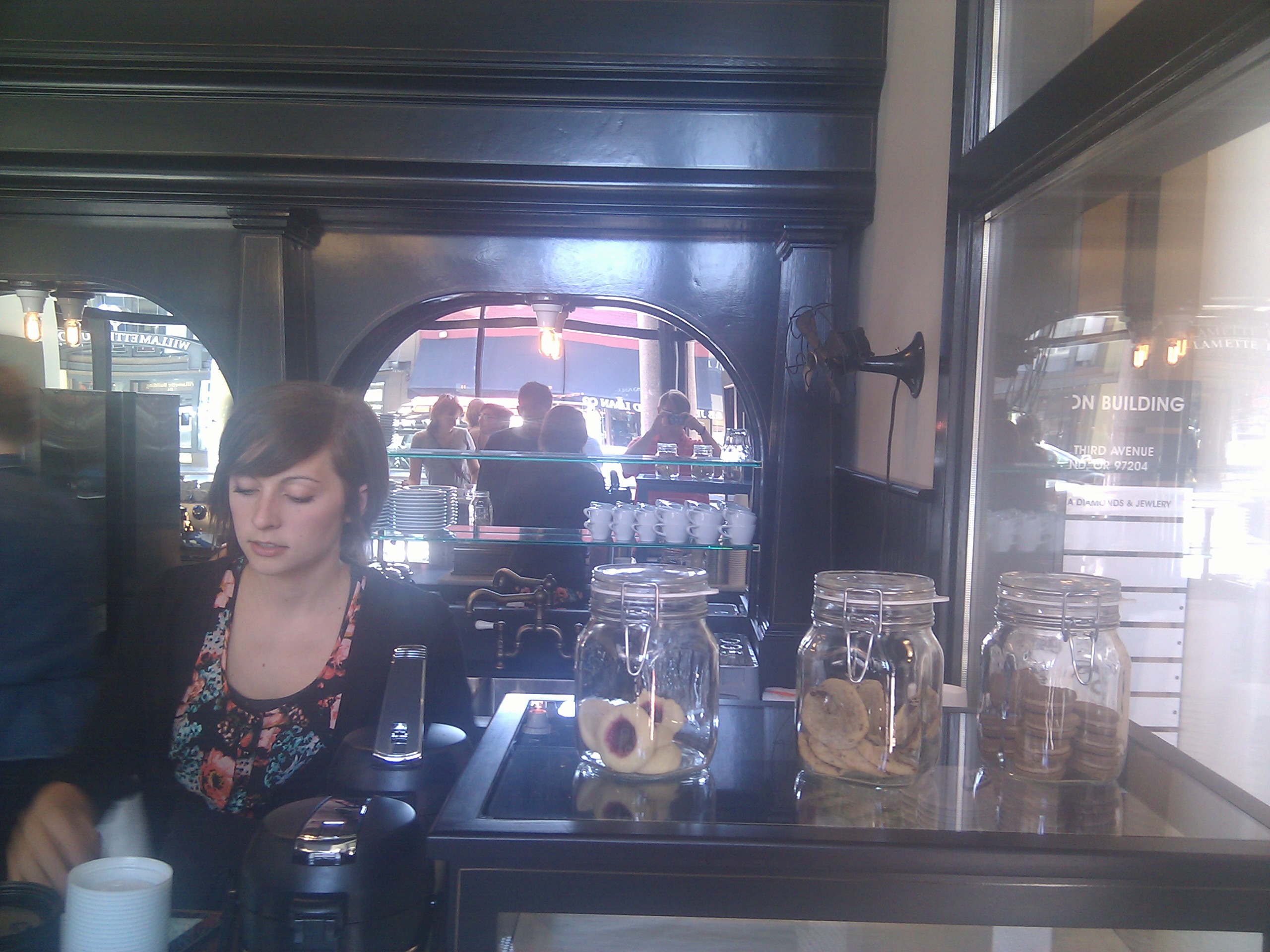 Standing at counter, our orders being taken
On to the order. For Kofahl and I; macchiatos. For Robert, a soy-mocha. There were multiple bean selections available, but being trusting folks, we went with "barista's choice".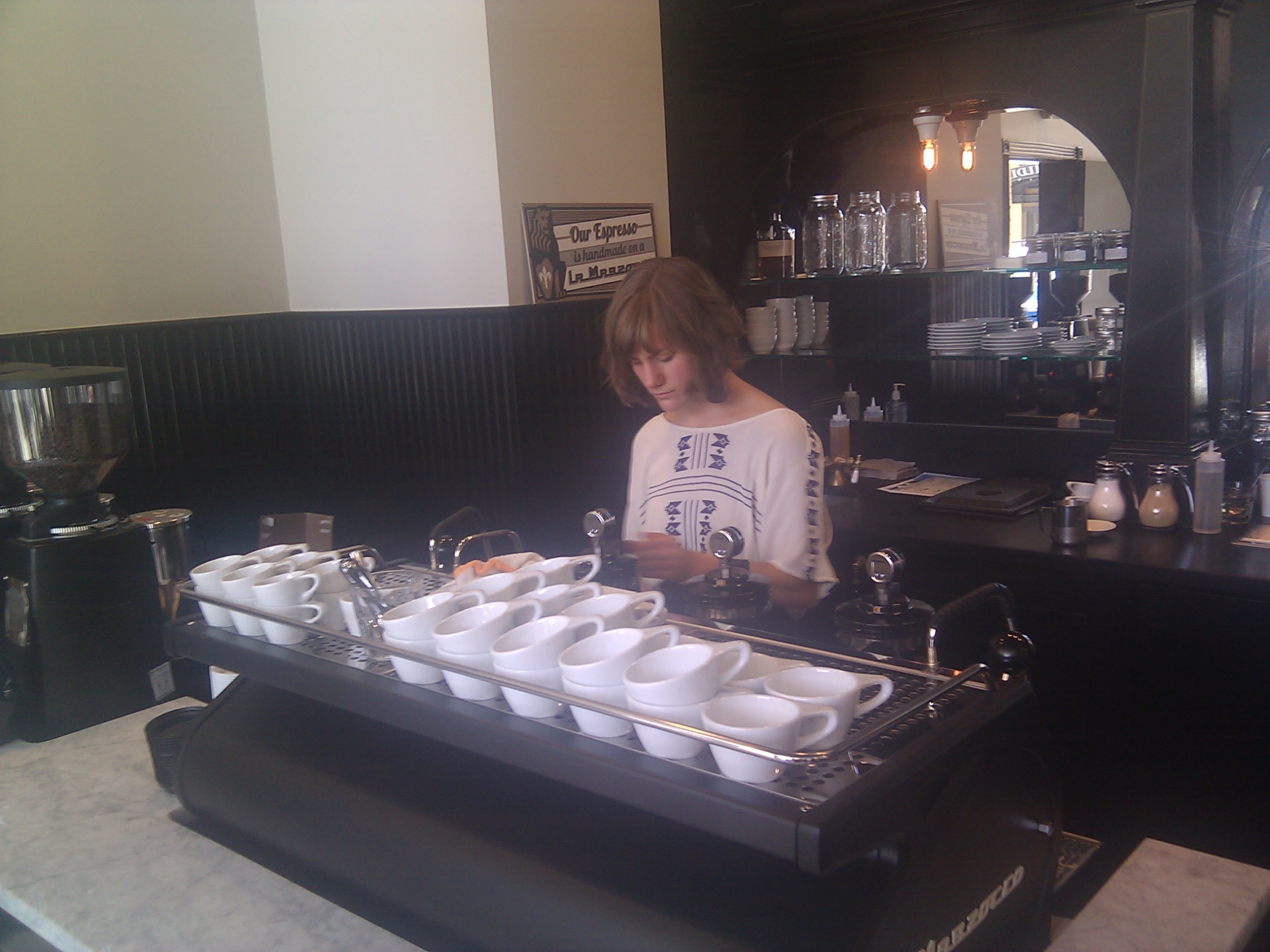 The barista at work. La Marzocco machine, including kitschy sign
One the counter to the left, in all it's steam-plume-spouting glory is a brand spanking new La Marzocco Strada MP machine, this one in matte black. An impressive machine, with an impressive barista wielding it's power.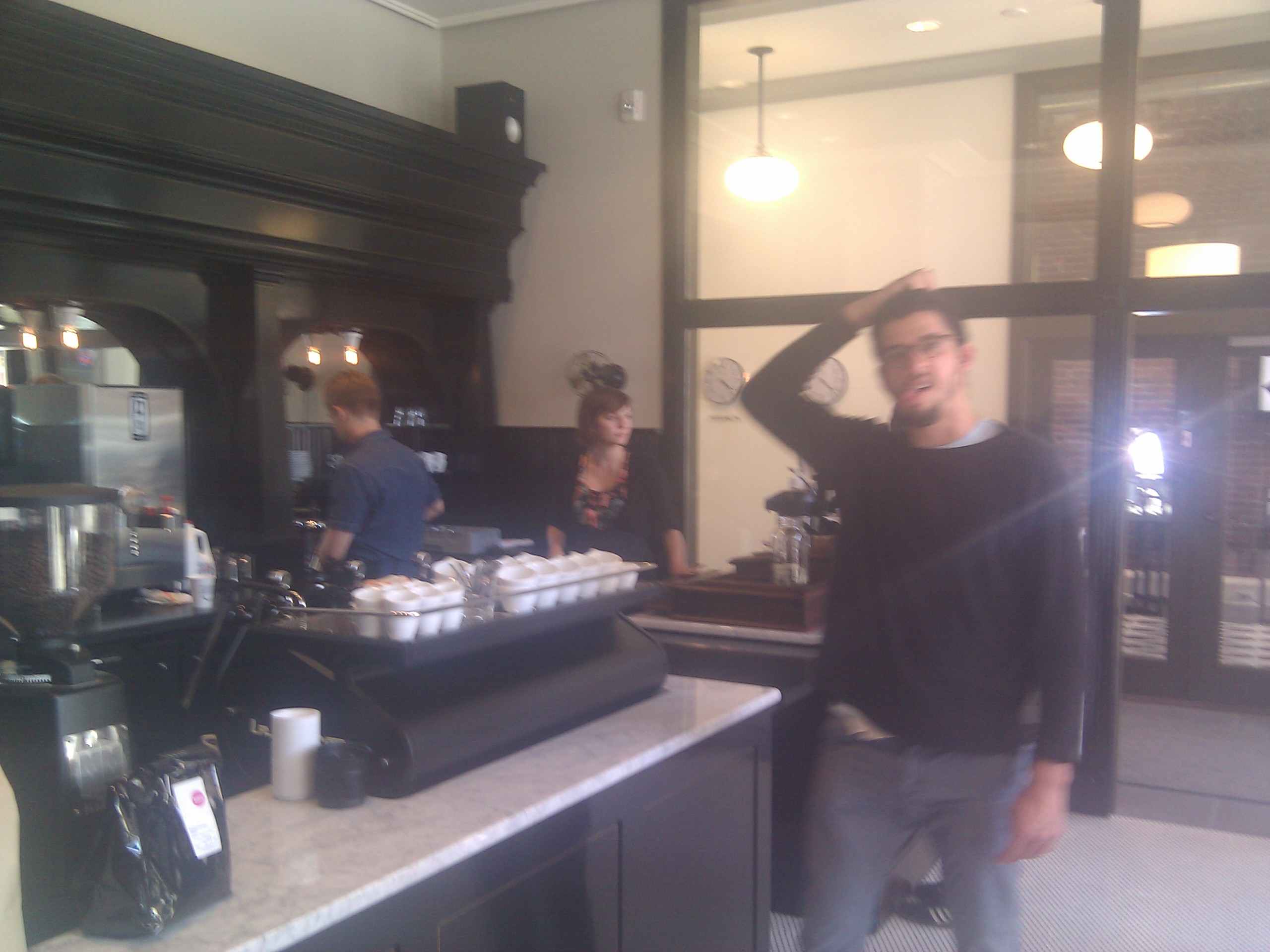 Bad picture of Kofahl
Meanwhile, Kofahl poses for a picture… not really.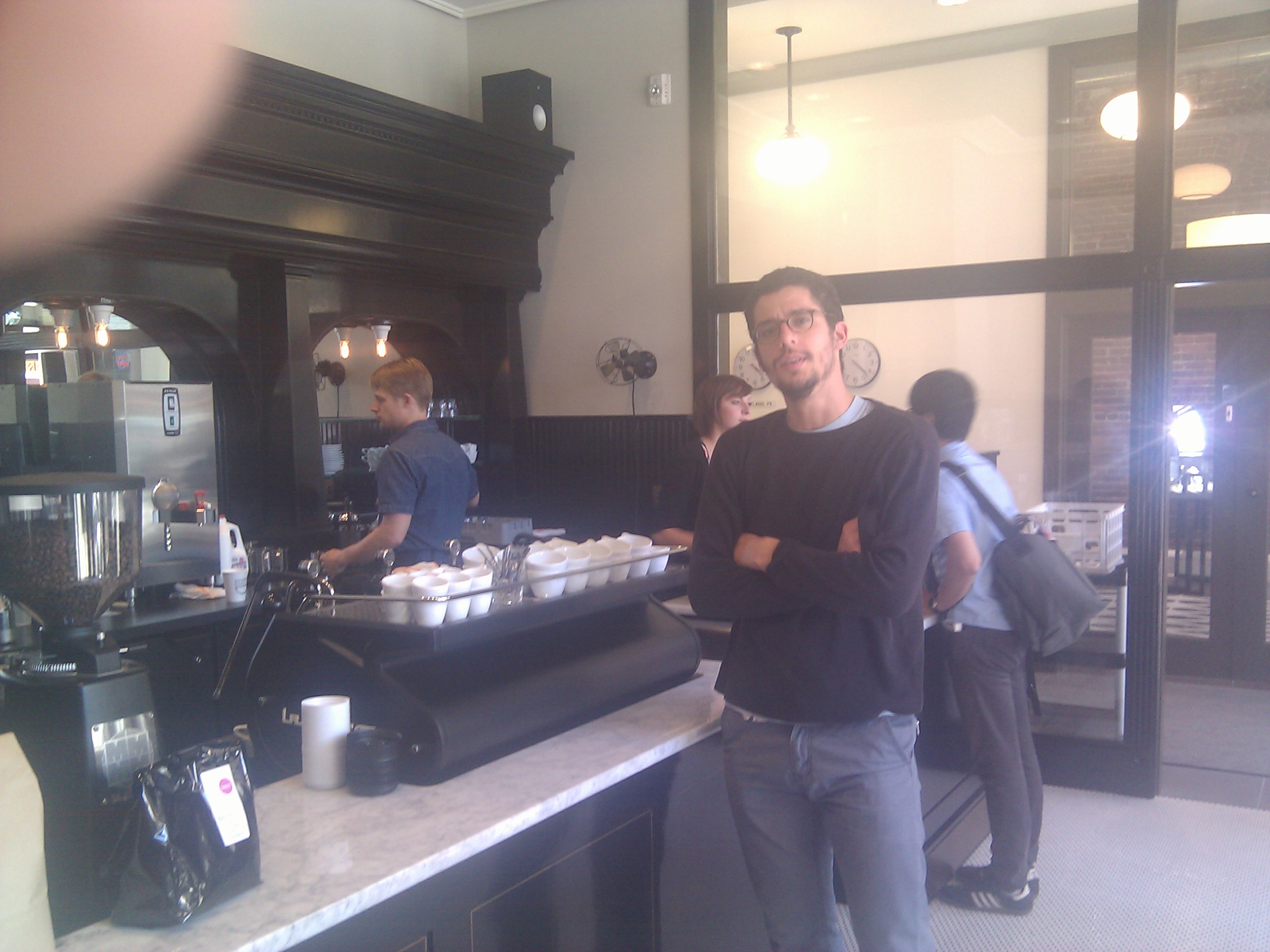 Better picture of Kofahl, plus finger
Kofahl is disappointed with my terrible phone-photography skills. I can understand that. My finger agrees.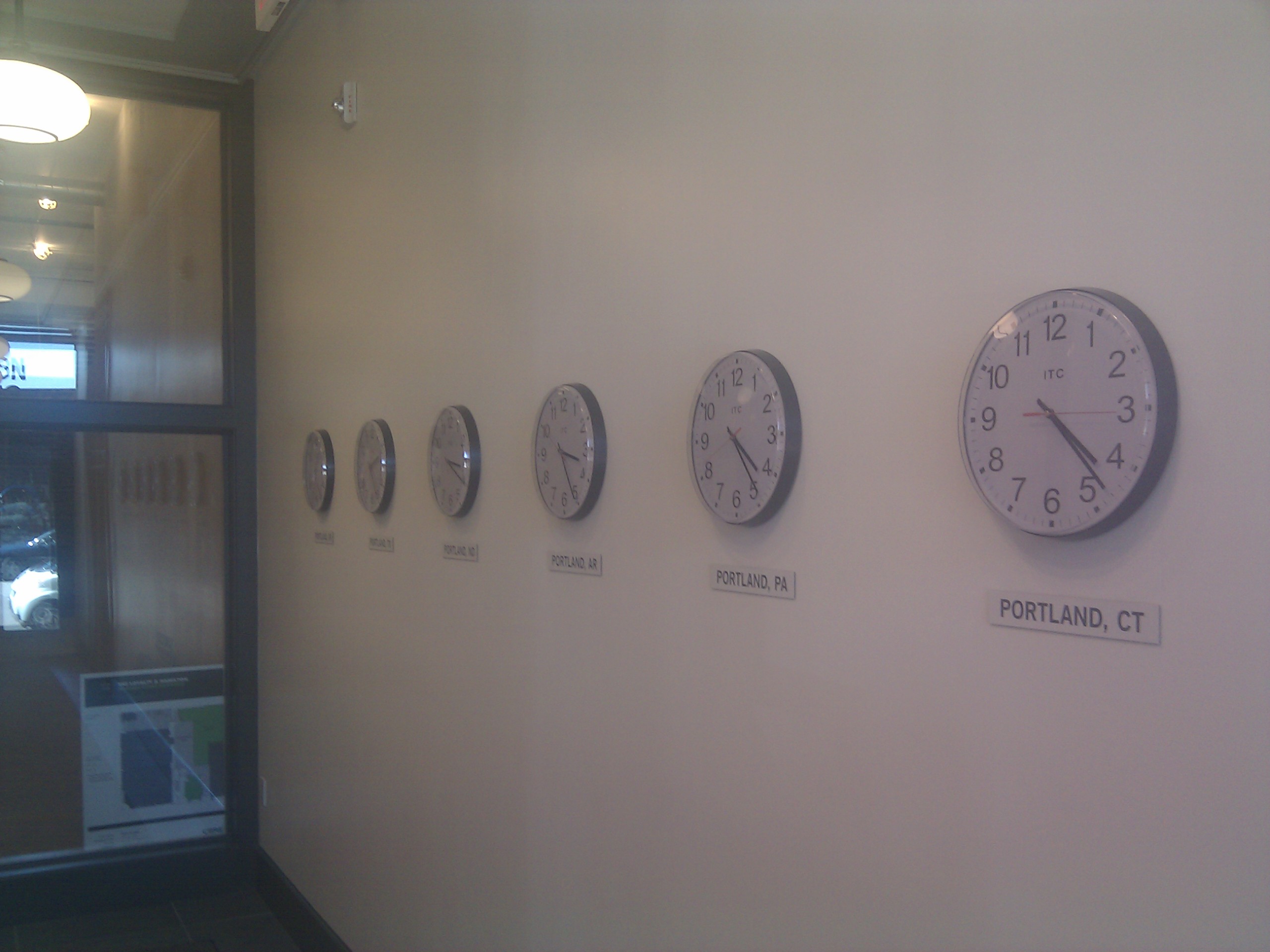 Hallway just outside of the shop
While our drinks are being made, I go for a little wander around the grounds. Just outside in the hall, there is a row of "world clocks" for various Portland city locations around the US… and here I thought we were the only one! ;)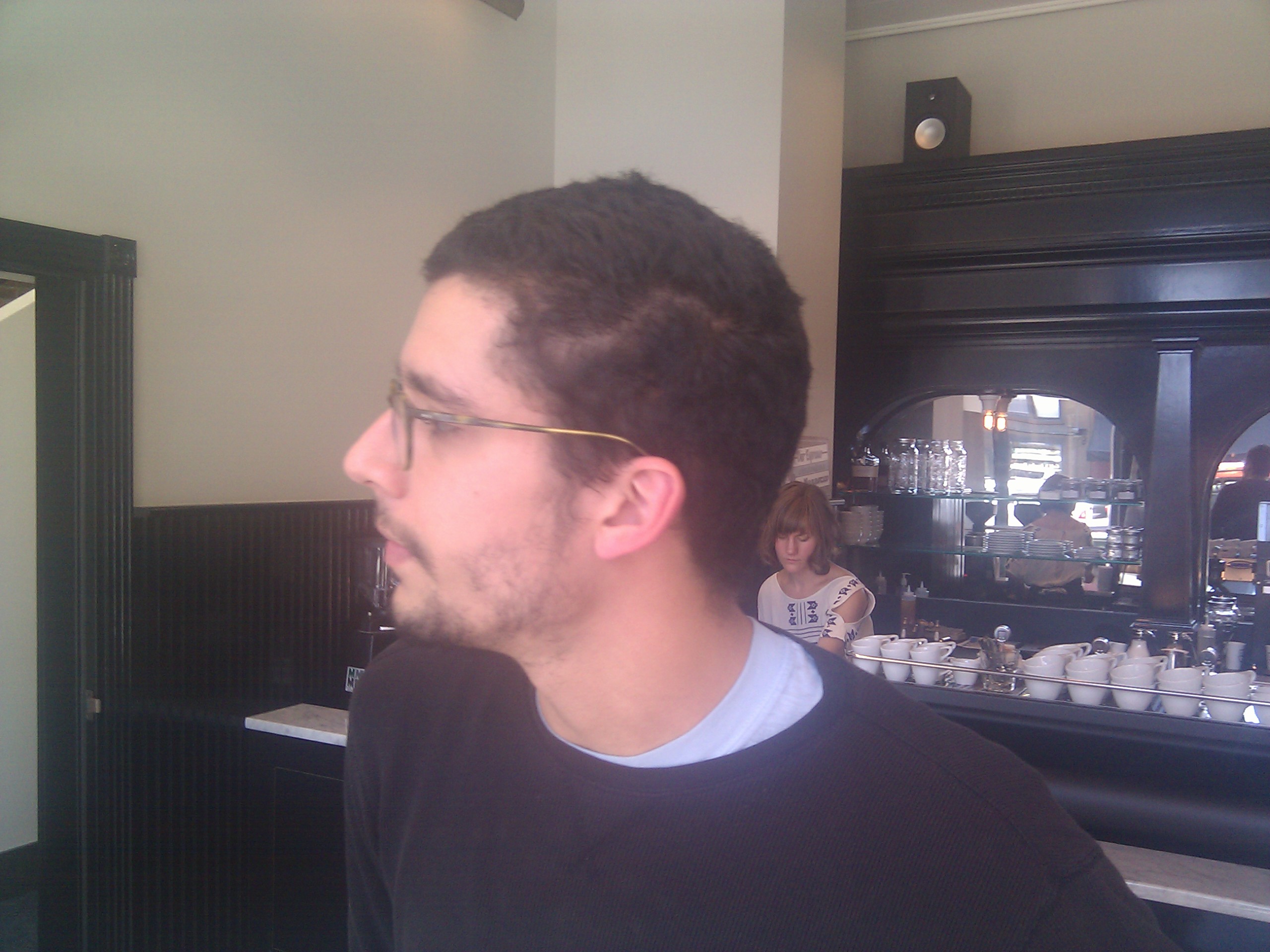 Kofahl, in profile, barista prepares our beverages in background
To make up for my terrible attempts at catching Kofahl in an action shot earlier, I try to take a more flattering picture. Yeah, I'm not really very good at this.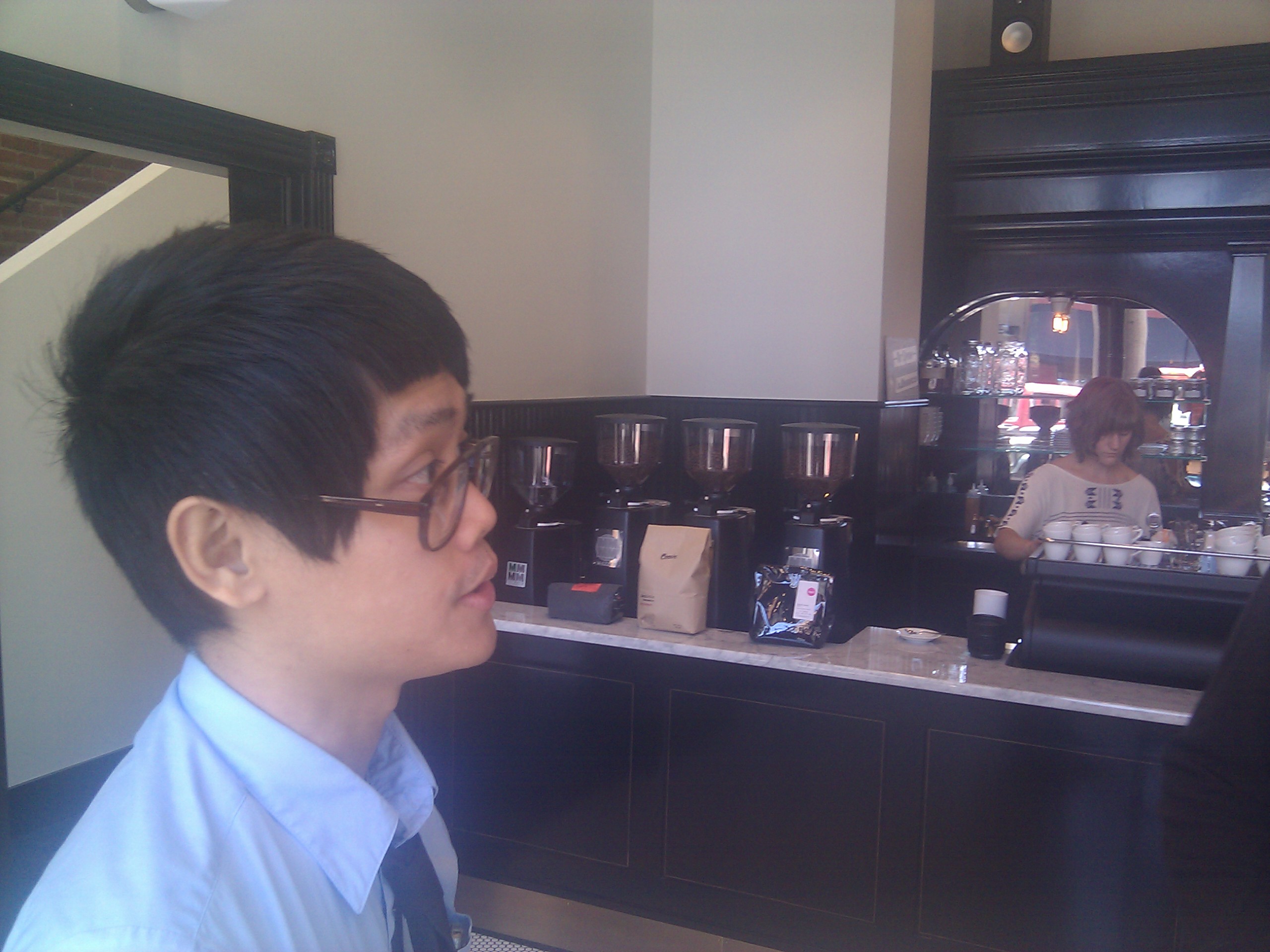 Robert, waiting patiently for his beverage. Barista close to completion, saucer and spoon prepped
Quality takes time and appreciating quality takes patience. Robert, a support engineer, is a paragon of patience.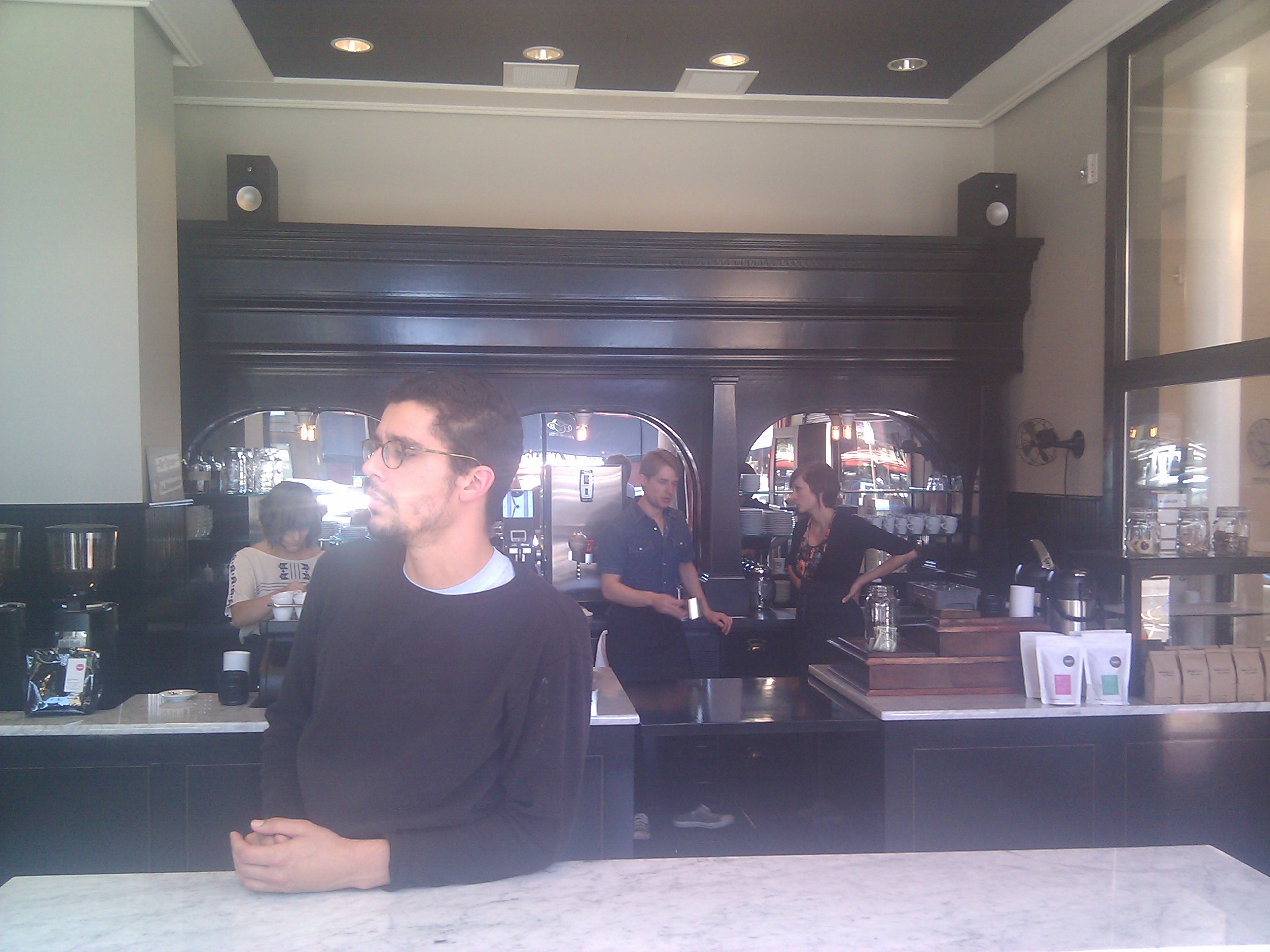 Kofahl, sucking light out of barista's head
Meanwhile, Kofahl busies himself by sucking the knowledge out of the barista's head, which manifest as a stream of light. OK, maybe not really, but I enjoy the accidental imagery.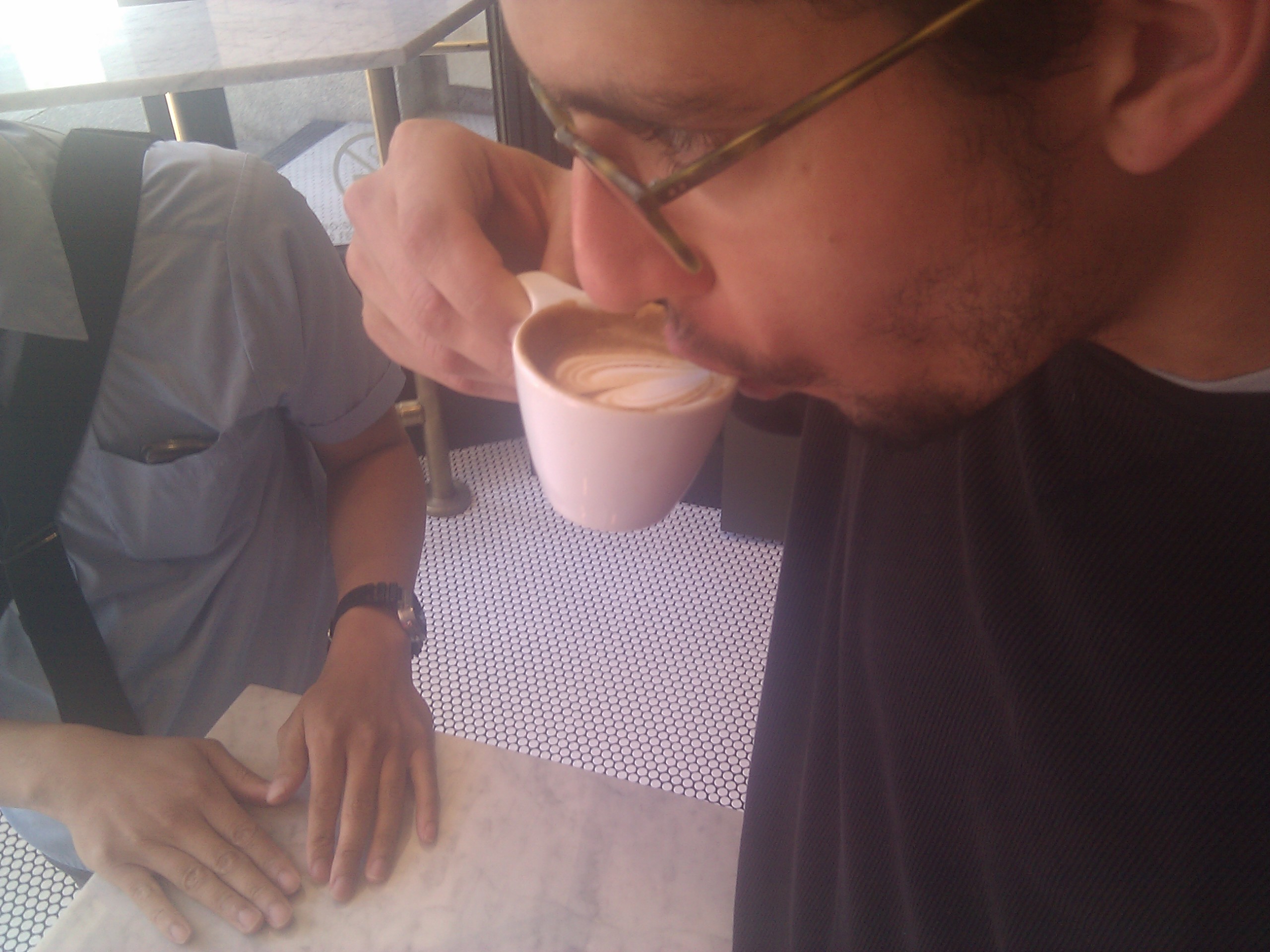 Kofahl sipping his macchiato. Robert's hands form a spiky heart, cellphone pendulous in his shirt pocket. The tile floor remains in place.
The first of our drinks arrive and Kofahl enjoys the honour of the initial sip. We watch pensively, jealously imagining how awesome the experience must be, living vicariously.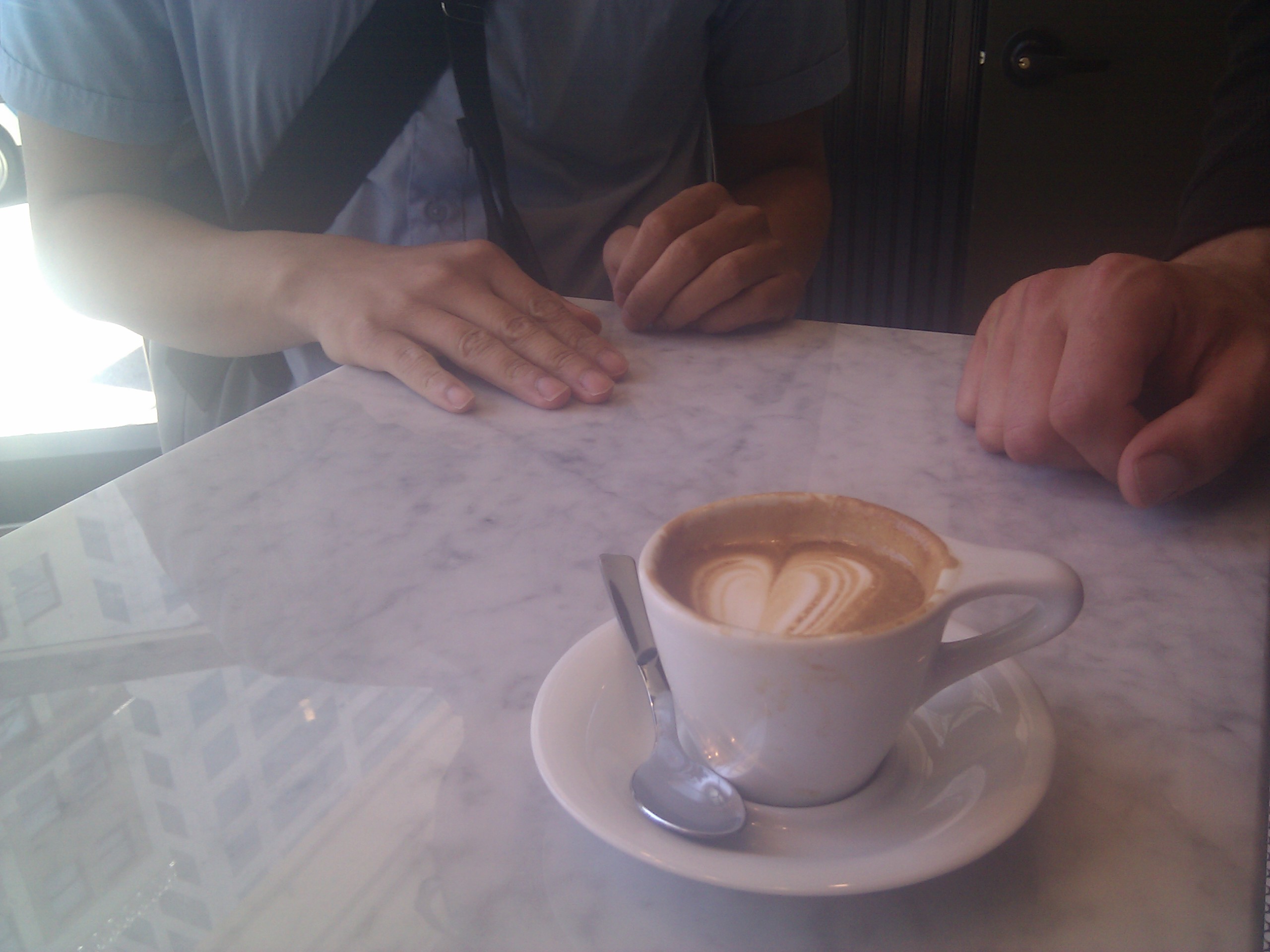 The macchiato post-sip. Portland buildings from across the street reflected in marble top
That first sip was too intense. Kofahl needs to take a break. We discuss in abstract terms. I think his brain can't quite process the coffee's greatness. Kofahl summarizes, "Pretty good"; the understatement of the century?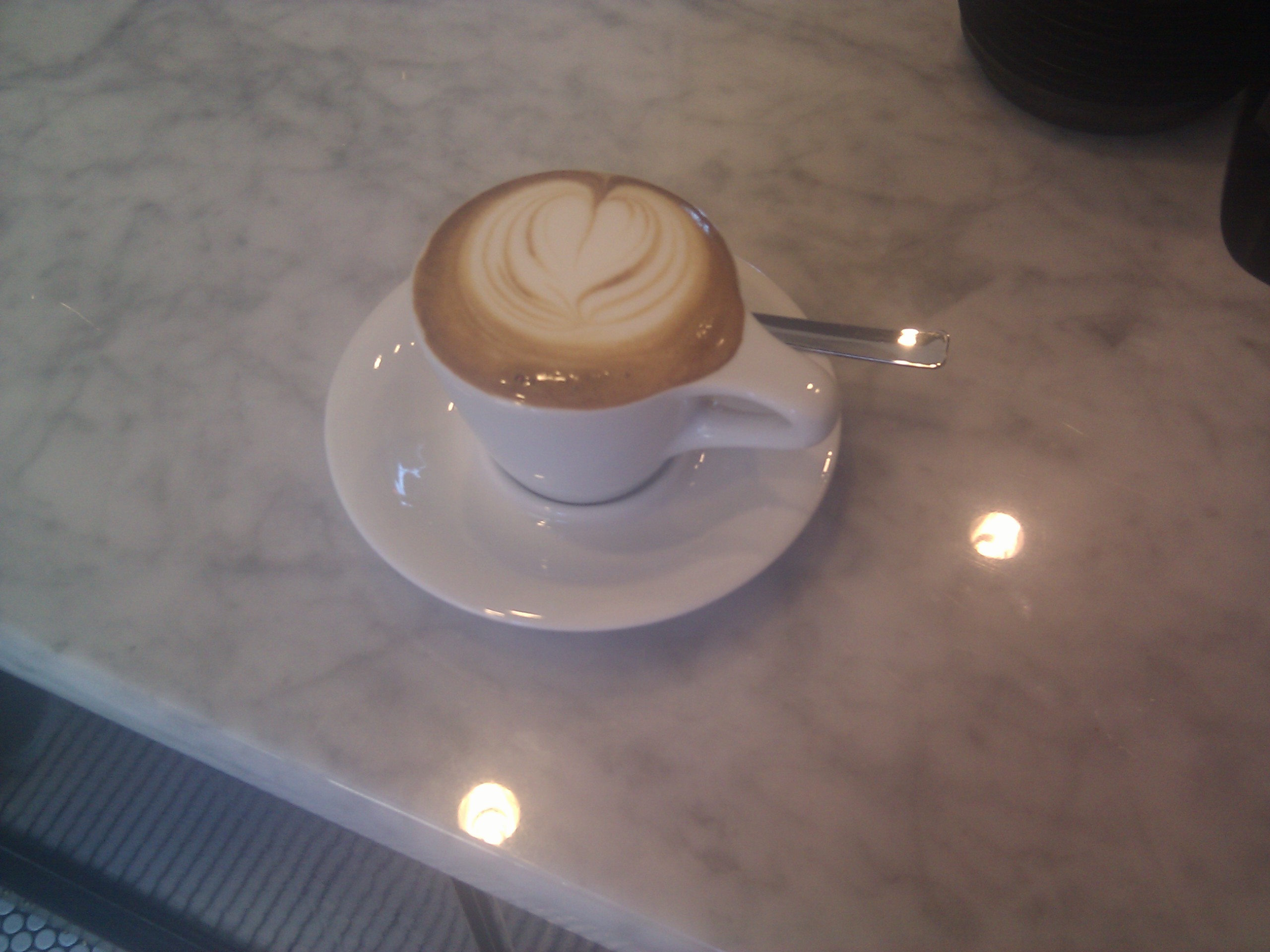 Troy's macchiato pre-sip. Foamy top bulges against hydrogen bonding. Physics losing the battle against barista skills.
My macchiato arrives and I take a moment to capture it in its pre-sip state. A beautiful bulge of milky foam sets on top, barely contained by the diminutive cup. A wonderful presentation.
Conclusion
So, my personal overall conclusion? It's the best coffee-shop within one block of our offices. IMO, one of the best downtown. I'll still head over to Blue Collar Baking for their amazing bundt cakes, and because they use Water Avenue Coffee, which is one of my favourite roasters in town. There is no compelling reason to go to Stumptown on 3rd unless you wish to sit down and work (which is not possible at this location).
The setup is very much like Spella (though larger); Italian style, standing room only, with minimal outdoor seating. You're meant to get a quick espresso/macchiato, and lounge standing-up with your conversation partner while you sip. The whole experience should take no more than 10 minutes. In and out, a quick diversion on your way to somewhere else.
The service was fast and friendly. When we arrived at ~1:15pm on a Tuesday, there were a total of 6 other patrons (three sets of two). This low traffic is probably due the fact that they just opened up. We'll keep track of how the traffic increases as awareness grows.
Some Other Random Comments
Kofahl and I were both very pleased with our coffee. My feeling is that it still has a 'new machine' taste, which means, to me, that it has a very clear presentation of the coffee's body with an understated 'creaminess'. To me, it seems that as a machine gets broken in, over the course of the first few months of heavy use, that the character of the coffee changes a bit, providing a more blended flavour with a stronger 'creaminess'. These of course, are just my made up ways of describing something that I really have no idea how to talk about. It's also possible I'm completely imagining this and just looking for reasons to say pretentious things.
Kofahl comically scraped the last of the coffee out of the cup with his little spoon, because it was that good. I used my finger.
Robert comments that the soy-mocha was the best he has ever had. Not sweet, some cinnamon notes in the chocolate. Very smooth.
We are pleased.